20 x 40 High Peak Tent, Seats 80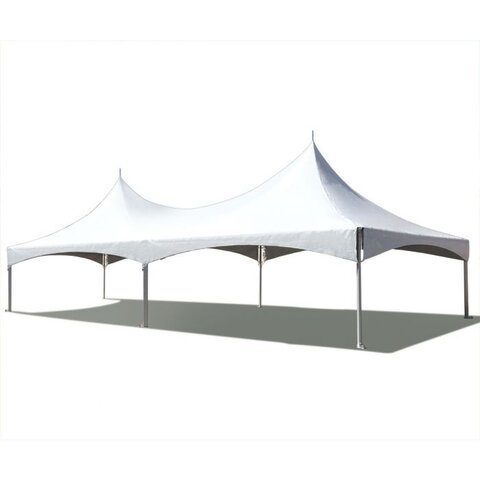 Setup Area: 24L x 44W x 19H
Actual Size: 20L x 40W x 17H
Age Group: Any
Description
Party Tent!!

This Party Tent is great for backyards, parks and coroporate gatherings. Can be set up on Grass, Sand, and Concrete. Call ahead to schedule this with our office at 757-317-4491 or email us at Events@FrogmansPartyRentals.com.
With one of Frogman's Tents, you will have a great addition to any party! Provide seating, shading, or a place for food setup! Great for Graduation parties, Corporate parties, First Communions, or a Backyard BBQ!
Seats (80) people

Tent, table, and chair packages available on previous page

Customer is responsible to choose location of tent

Please keep in mind underground utilites including septic, sprinkler, electric etc.

2 week cancellation notice required for all tent related products
NOTE:

When booking Tents from Frogman's Party Rentals which will be installed on grass or dirt, the customer (Homeowner on a Residential Property Site or Manager with Authority on Comercial Sites) MUST agree to Miss Utility Virginia to come out to the location within 72 Hours of Setup to properly mark the grounds for any potential utilities of concern in the setup area. Frogman's Party Rentals will arrange for Miss Utility to come out and mark the area, they do NOT need the homowner home at the time of survey.
Miss Utility / VA811.com:
What Do Differently Colored Markings Mean?
There are many different types of underground utilities. On the Virginia 811 website, they list what their different color markings indicate. Homeowners can easily look at these markings on their property or construction site to know what underground utilities exist. The different colored markings include:
Red – Electrical power lines

Orange – Communication lines

Yellow – Gas lines

Green – Sewer lines

Blue – Potable water

Purple – Reclaimed water

White – Proposed excavation line